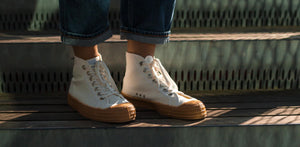 Novesta's production facilities date back to the 1930s, when the famous shoemaker Jan Antonin Bata opened a new factory in the small town of Partizánske in Slovakia.

Over time, Novesta has become one of the last purely European produced brands throughout Europe. Novesta's unique sneakers, which pair imaginative design with timeless sophistication, are globally recognized. For Novesta, quality design refers to more than fashion. We are dedicated to manufacturing shoes according to the highest environmental standards.

That's why we use materials such as natural rubber and 100% cotton and linen. These materials allow us to produce ecological footwear of the highest quality.
SUBU
The idea was born in Japan – a country where sandals are far more than just shoes. They're a centuries-old tradition. An inextricable part of a kimono outfit. The footgear of Buddhist monks on their spiritual journeys.
A symbol of freedom to go wherever you like.
SHOP THE RANGE
Ben Sherman
Shop the latest in men's clothing and accessories from British Designer Ben Sherman.
shop the range
Always such a wonderful shopping experience. They have such unique clothing and such friendly, knowledgable staff
Jimmy dunne
Smart, casual and stylish men's store with an artsy edge. Owner, manager and staff are extremely knowledgeable about their product range. Highly recommend!
Farhana Nanabhai
Super cool spot. Awesome hats, shirts, shoes and the friendliest staff around. Highly recommend!
Vincent Schaffler
Location
25 4th Avenue, Parkhurst, Johannesburg, 2093
Monday: CLOSED
Tuesday-Saturday
09h00-17h00
Sunday's & Public Holidays
09:00-15:00